Prayer Shawl Ministry
On October 22, 2006 Glades started the Prayer Shawl Ministry. The first meeting was a great success. There were several knitters who showed up to knit and others who wanted to learn how to knit. By the end of the night, to the beginners' surprise, they were all knitting prayer shawls.
The concept for the ministry was presented to Lee Henderson by Beverly Newland. Since Lee Henderson could teach people how to knit; the Prayer Shawl Ministry was born. Lee was willing and still is willing to teach anyone who wants to learn to knit.
The shawls are made by "knit one, pray one". Lots of love and prayers go into each and every shawl. When completed the shawls are blessed by our Pastor.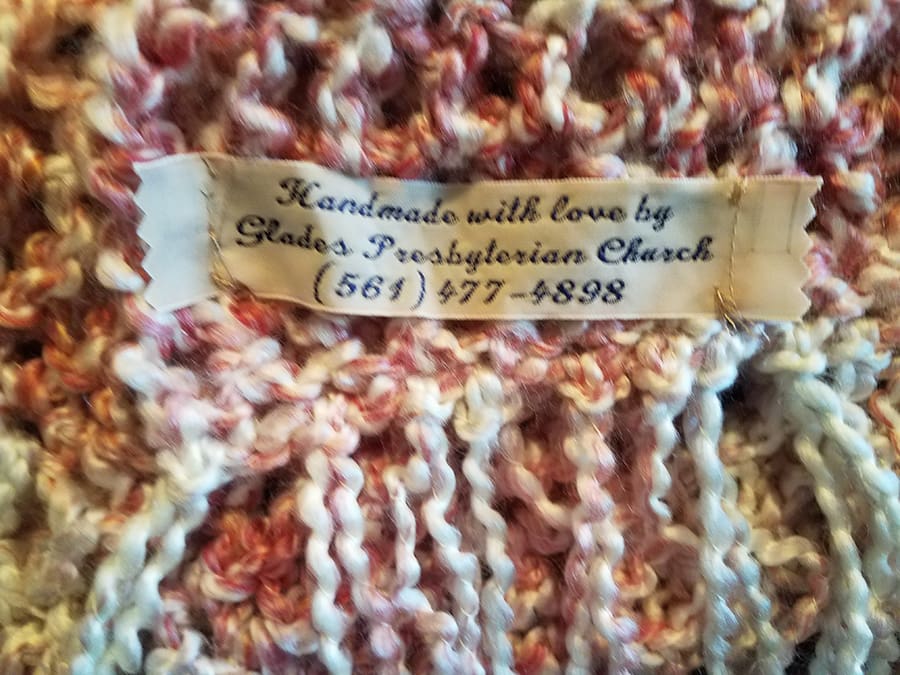 When completed the shawls are blessed by our Pastor. We give the shawl to someone who needs comfort, due to a loss of a loved one, mental or physical illness, going off to college, getting married, new born baby, etc. The shawl is given so who ever receives one will know that there are people out there who are praying, caring about and loving them. The prayers that go along with the shawl also let them know God is with them.
We have given away 600+ shawls over the past 10 years. With that being said, we are down to five knitters. If you would like to join our ministry, by knitting or contributing funds, as each shawl costs $15 just for the yarn, contact Ginny DeMattei through the church. We are happy to teach new knitters and crocheters how to make a prayer shawl – it's easy.
Glades has given several other churches directions to start this ministry in their church just through receiving one of our shawls.
Please pray on this and contact Rowena Avrich if interested in joining our ministry. Thank you,
Knit One Pray One